Protocase Designer Version 4.6.8 Release Notes-Aug 30,17
From Protocase Designer Documentation
Version 4.6.8 Release Notes
Lock items
Designer now supports the ability to lock objects in the Face Editor to prevent them from being moved, edited or deleted.
The lock function can be used on all types of objects, including:
Cutouts
Graphics
Fasteners
Hardware
You can also lock several objects at the same time.

Interface & help
Designer's interface is now streamlined with new buttons and tool menus.

Context Help & Tool Tips have been added throughout the software to provide additional help and guidance on how to use each feature.
Printing & Silkscreening
Scalable Vector Graphics
Designer now supports the ability to import, place and display scalable vector graphic files (.SVG) in addition to bitmap images.
All other types of vector graphic files (.AI, .EPS, .DXF, .DWG, or .PDF) can be uploaded and added to your design file, but it will not actually be displayed.
Fonts
Protocase designer now supports the ability to upload your own fonts. In the Face Editor, click Graphics > Import fonts.

The following fonts have been added:
Archer
Bank Gothic
Britannic Bold
CAC Futura Casual Bold
Gunblade
Gunship
Pirulen
Prototype
Segoe Print
Serifa BT
Serpentine Com Medium Oblique
Sui Generis Free
Charter BT Black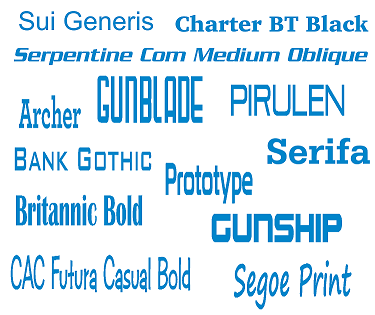 The following fonts have been removed:
HandWriting
Viking Stencil
MarketingScript Shadow
Powdercoat colors
The following powdercoat colors have been added:
FS 33446 Desert Tan Smooth Flat Polyester Powder
RAL 7040 Window Gray Smooth Glossy Polyester Powder
FS 17038 Black Full Gloss Smooth Polyester Powder
FS 37038 Flat Black Smooth Flat Polyester Powder (Replaces Proto-Legacy Matte Black)
RAL 3020 Traffic Red Glossy Polyester Powder
RAL 3005 Wine Red Smooth Glossy Polyester Powder
RAL 1003 Signal Yellow Smooth Glossy Polyester Powder
Silkscreen colors
This release of Protocase Designer includes the latest stocked silkscreen color:
Preferences
The Protocase Designer interface is now compatible with 4K monitors and high-resolution screens.
To change your display interface settings, you must click Edit > Preferences and change the Interface Settings - Buttons, Tools & Labels to Standard, Large or Custom.

Designer now runs 64 bit on 64 bit windows machines, and 32 on 32 bit windows machines.
Exporting Protocase Designer Files
You can now export your Protocase Designer assembly (.pda) as an IGES file. Click on Export Menu > Export Assembly to IGES.
Note: IGES files exported from Protocase Designer are currently incompatible with SolidWorks, but will be useable with SolidWorks 2018.

Other fixes
Problems with screws missing on some small l-shape and u-shape
Problem with rear of rear bend rackmount
Incorrect calculation of number of silkscreen colors if bitmaps used
Correct exclusion zones based on material and thickness
Known issues
We have had reports of issues with Windows 10 and Protocase Designer 4.6. We are investigating these currently and will have solutions as soon as possible.
A few additional problems exist in this version; please see Knowledgebase - Known Issues for details. As they are fixed, they will be recorded on the Knowledgebase - Software Fixes Released page, along with links to the Beta version containing the fixes.