Using L-Shape Enclosures for PCBs with Opposing Connectors
From Protocase Designer Documentation
For most computer enclosures, the U-Shape (clamshell) is the simplest to design and manufacture, and is fine to use when a component protrudes from adjacent sides. But if the enclosure is to accommodate a component that protrudes from opposite sides, such as a PCB with opposing connectors as shown below, the U Shape is not going to work.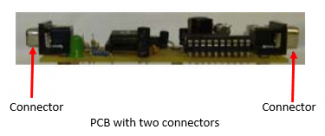 Because the connectors protrude through each side of the enclosure, you cannot insert the PCB in a U Shape enclosure unless you stretch at least one enclosure side, in which case the enclosure will most likely be out of position when you bend it back.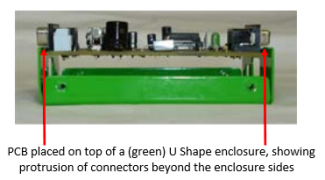 If you use the two-piece L Shape enclosure instead, you can slide the board into the enclosure from one side without any bending, as follows.