The fastest and easiest way to design, price and build custom electronics enclosures.
Protocase Designer Support
We offer many resources to assist you in the design of your enclosure:
Protocase Designer User Forum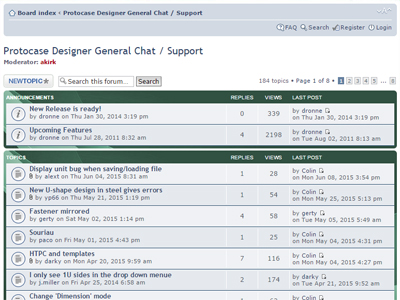 We set up this forum as a support channel for Protocase Designer users. You can ask questions, share experiences, report bugs, and check enhancements. Protocase Designer developers monitor and participate in the forum. We encourage experienced users to share their experience and expertise. We ask that users of this forum use it respectfully, and we will moderate where necessary.
Visit the Protocase Designer Forum
Protocase Designer Wiki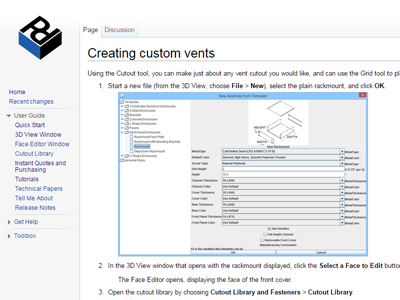 Our comprehensive wiki provides detailed information about all things Protocase Designer. From technical papers on enclosure design to step-by-step tutorials and Protocase manufacturing overviews, our Technical Wiki provides the in-depth knowledge to help you successfully design an enclosure according to your specifications.
Visit the Protocase Designer Technical Wiki
Contact Us

If you need help finding information, or canít seem to find what youíre looking for, send us an email and weíll be happy to help you!
Video Tutorials
An Introduction Tutorial to Protocase Designer
An in-depth introduction to our Protocase Designer 3D Enclosure Design software.

How to Use the Locking Feature
Demonstrating how to lock objects, or a group of objects, inside the face editor. These objects could be cutouts, fasteners, standoffs, images and more.

Understanding the Coordinate System and 2D Measurement Feature
Learn how to measure the distance between two objects on a face and get a basic understanding of how the coordinate system works.

How to Use Masking, Exclusions and Constructs Inside Protocase Designer
This tutorial will show how to use shapes to add masking, exclusions and constructs to your design.

How to Import an SVG File in Protocase Designer
The following tutorial will give an overview on how to add an SVG file to your design for graphics.

Creating Vent Slot Cutouts in Protocase Designer
The following tutorial shows a few different ways to create standard vent slots in Protocase Designer.

Viewing Controls
View an enclosure in a three dimensional environment; using the Pan, Rotate, Zoom, Remove Cover, and Reset View Orientation tools.

How to Place Basic Cutouts Using the Face Editor
This tutorial will go over the basics of adding cutouts to your enclosure or part.

How to Create Custom Cutouts Using the Face Editor
Using the face editorís advanced options for custom cutouts, built-in cutouts, hardware and the cutout library.

How to Add Digital Print and Silkscreen Graphics
Protocase Designer will allow you to add digitally printed graphics as well as silkscreening.

How to Export an IGES File from Protocase Designer
Learn how to export your Protocase Designer Assembly file (PDA) as an IGES file and import into Solidworks 2018.

How To Quote and Purchase
This tutorial will go over how to quote and order your design within the Protocase Designer software.

How to Create a Key Slot Cutout in Protocase Designer
Key slot cutouts are required for adding various accessories to your enclosure, such as toggle switches.

How to create a Double-D Cutout
Double-D cutouts are commonly needed for bulkhead crimp jacks (to hold connectors) and cam lock metal punches.