The fastest and easiest way to design, price and build custom electronics enclosures.
Materials, Components & Finishes
Stainless Steel
Premium solution to corrosion resistance.
Same stiffness advantage of steel yet even higher strength.
Non-painted Stainless is 'passivated' using Citric Acid to remove any iron contamination that may show up as rust spots.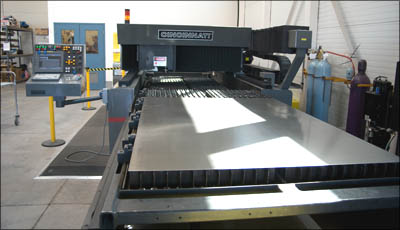 Finish:
Powdercoat, and buff/passivate
Fasteners:
Typically use stainless fasteners and PEMS
Welding:
Highly weldable (unless brushed)
Stocked Stainless Steel
304 Stainless Steel (A240 TP304 2B)
11 gauge (0.125" | 3.18 mm)
12 gauge (0.109" | 2.77 mm)
14 gauge (0.078" | 1.98 mm)
16 gauge (0.063" | 1.59 mm)
18 gauge (0.050" | 1.27 mm)
20 gauge (0.038" | 0.94 mm)
22 gauge (0.031" | 0.79 mm)
24 gauge (0.025" | 0.64 mm)
26 gauge (0.019" | 0.48 mm)
304 stainless steel has a high resistance to corrosion and lends itself to many types of fabrication, making it one of the most widely used forms of stainless steel used today. This alloys may be considered for a wide variety of applications where one or more of the following properties are important: resistance to corrosion, prevention of product contamination, resistance to oxidation, ease of fabrication, excellent formability, beauty of appearance, ease of cleaning, high strength with low weight, good strength and toughness at cryogenic temperatures, ready availability of a wide range of product forms.
316 Stainless Steel (A240 TP316 2B)
11 gauge (0.125" | 3.18 mm)
16 gauge (0.063" | 1.59 mm)
316 stainless steel is an austenitic chromium-nickel stainless steel that contains molybdenum . Because of its higher nickel and molybdenum content, 316 stainless steel demonstrates better overall corrosion resistant properties than 304, especially with regard to pitting and crevice corrosion in chloride environments. In addition, 316 stainless steel provides excellent elevated temperature tensile, creep and stress-rupture strengths, as well as outstanding formability and weldability.
The gauges shown above are based on American stainless steel sheet steel manufacturers gauge thickness. These will vary from british gauges with some exceptions.