The fastest and easiest way to design, price and build custom electronics enclosures.
Learn More about Protocase Designer®
What is Protocase Designer?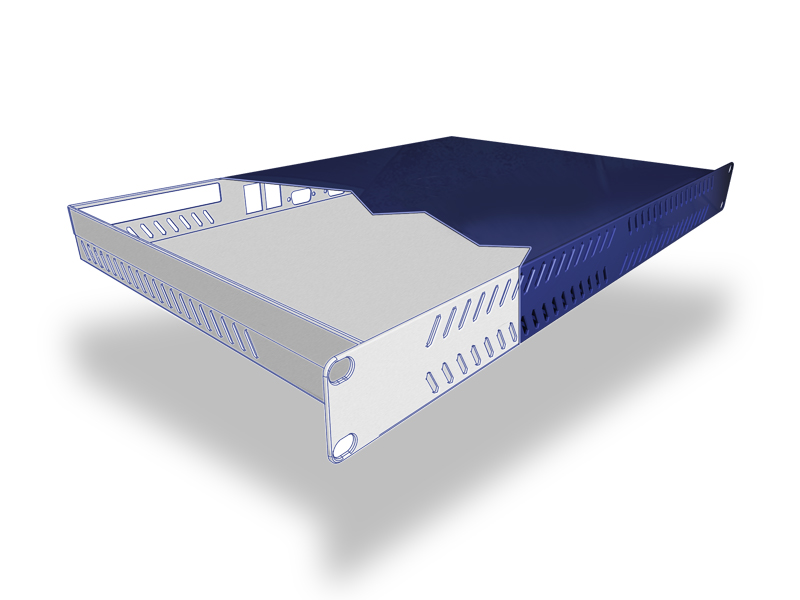 Protocase Designer is professional-grade free 3-D CAD enclosure design software, that can be learned in minutes. Once you download the software and register for an account, you can design complete custom metal electronics enclosures or sheet metal parts in less than 20 minutes. You can obtain instant pricing as you design, and order online from Protocase Inc. We will then manufacture your custom enclosure in 2-3 days. Protocase Designer has built-in intelligence that only allows you to design what can be manufactured, so the traditional cycle of design submission and revision is reduced or eliminated.
Who uses Protocase Designer?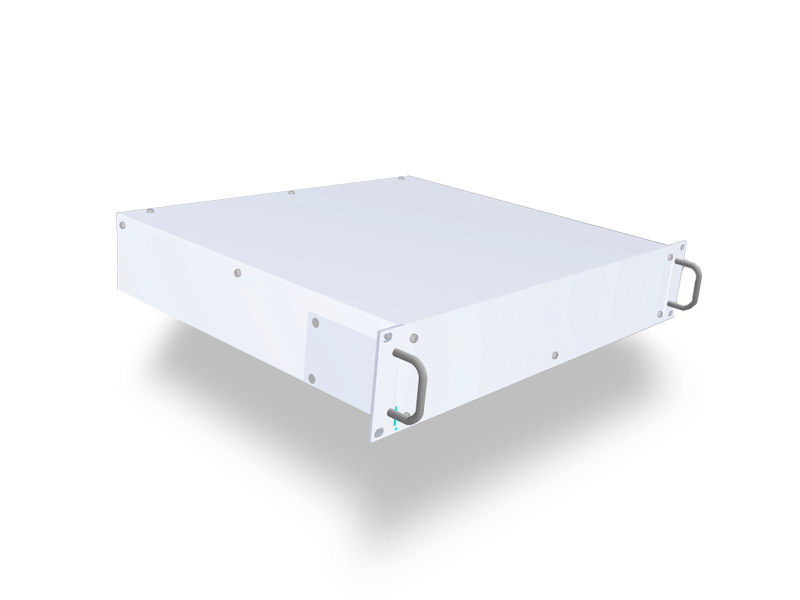 Electronics engineers and designers who require enclosures for their projects, but have limited experience in actually designing custom enclosures. With Protocase Designer, they can learn enclosure design in minutes, avoid expensive investments in complex generalized CAD software, and benefit from real-time quoting and super-fast delivery time.
Experienced electronics packaging engineers who are well-versed in designing enclosures with CAD software. These engineers prefer using Protocase Designer because it saves valuable design time and eliminates the delays usually found in the quoting cycle.
How does it work?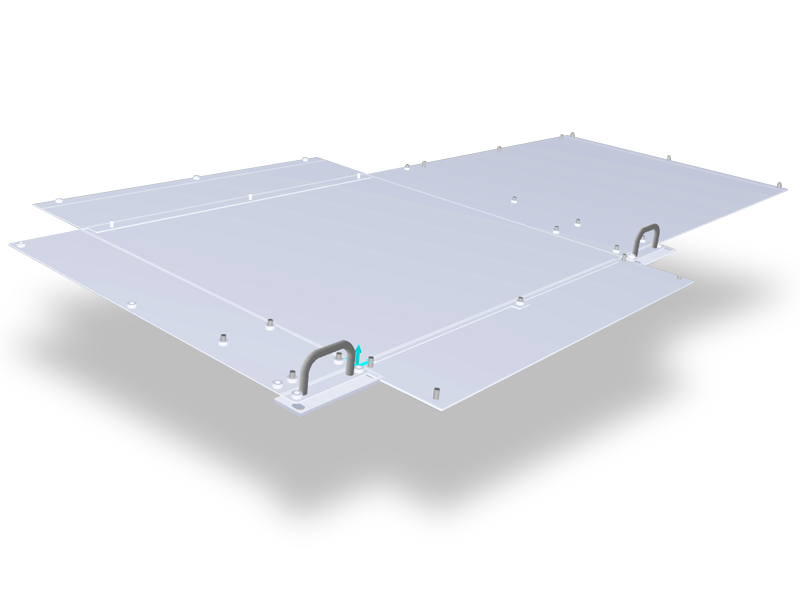 Protocase Designer is based on the concept of 'enclosure templates.' The software offers more than 20 enclosure templates, each lacking details such as size, cutouts, mounting hardware, finish and graphics. Protocase Designer allows a user to select a template, specify the size, material, color and more, then immediately begin working with a blank 3-D enclosure that exactly matches with his/her requirements. The user can view and rotate the enclosure in 3-D, select faces, and add cutouts, mounting hardware, and silkscreen artwork until his/her design is complete. At any time, the user can get a real-time quote, or submit an online order. Protocase Designer will not create designs that cannot be manufactured.
How do I get started, and where do I get support?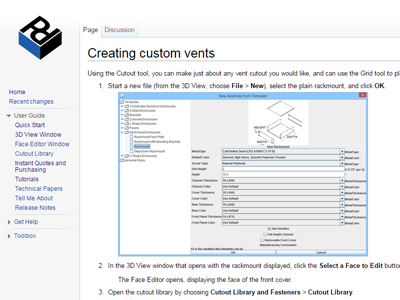 Itís easy Ė follow these simple installation instructions.
Our support page outlines the ways in which we are here to help. You can ask questions on the Protocase Designer User Forum, or read technical guides on the Protocase Designer wiki.
What if I have requirements that go beyond the capabilities of Protocase Designer?

Sometimes, Protocase Designer users will design a basic custom enclosure, but find that they have special features or requirements that go beyond the capability of the software, such as design of internal mounting hardware or more extensive customization of the enclosure structure itself. Protocase can easily accommodate this situation. Simply take your design as far as you can, save it to your hard drive, and email the file (the extension is .pda) and your request to sales@protocase.com (or sales@protocase.co.uk for customers in the UK). Usually, our experienced engineering and design services team can make the required modifications. Minor changes can often be accommodated free of charge, and larger design enhancements can be done for a reasonable hourly fee. If you can provide sufficient detail before design time, they can provide a full quotation for supplement design costs and manufacturing costs before you engage supplemental design services.
Video Tutorials
An Introduction Tutorial to Protocase Designer
An in-depth introduction to our Protocase Designer 3D Enclosure Design software.

How to Use the Locking Feature
Demonstrating how to lock objects, or a group of objects, inside the face editor. These objects could be cutouts, fasteners, standoffs, images and more.

Understanding the Coordinate System and 2D Measurement Feature
Learn how to measure the distance between two objects on a face and get a basic understanding of how the coordinate system works.

How to Add Countersinks into Your Design using Protocase Designer
Countersinks create flush surfaces between your metal and fasteners, and can be especially helpful for providing sufficient clearance.

How to Use Masking, Exclusions and Constructs Inside Protocase Designer
This tutorial will show how to use shapes to add masking, exclusions and constructs to your design.

How to Import an SVG File in Protocase Designer
The following tutorial will give an overview on how to add an SVG file to your design for graphics.

Creating Vent Slot Cutouts in Protocase Designer
The following tutorial shows a few different ways to create standard vent slots in Protocase Designer.

Viewing Controls
View an enclosure in a three dimensional environment; using the Pan, Rotate, Zoom, Remove Cover, and Reset View Orientation tools.

How to Place Basic Cutouts Using the Face Editor
This tutorial will go over the basics of adding cutouts to your enclosure or part.

How to Create Custom Cutouts Using the Face Editor
Using the face editorís advanced options for custom cutouts, built-in cutouts, hardware and the cutout library.

How to Add Digital Print and Silkscreen Graphics
Protocase Designer will allow you to add digitally printed graphics as well as silkscreening.

How to Export an IGES File from Protocase Designer
Learn how to export your Protocase Designer Assembly file (PDA) as an IGES file and import into Solidworks 2018.

How To Quote and Purchase
This tutorial will go over how to quote and order your design within the Protocase Designer software.

How to Create a Key Slot Cutout in Protocase Designer
Key slot cutouts are required for adding various accessories to your enclosure, such as toggle switches.

How to create a Double-D Cutout
Double-D cutouts are commonly needed for bulkhead crimp jacks (to hold connectors) and cam lock metal punches.