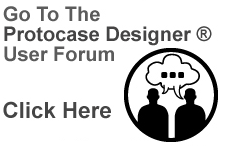 Free Download:

Click here to download the last version 3 release of Protocase Designer
Terms of use
This fully operational version of Protocase Designer is provided free of charge under the terms of our user license. Upon installation, you may begin to design enclosures immediately, but we do ask that you register your installation in order to receive price quotes, or place orders (registration is free of charge).
How to Download and Install
The following steps explain how to download and install Protocase Designer, and begin to order your custom metal electronics enclosures
Choose a download format and click on the corresponding icon to download Protocase Designer.
Open the Protocase Designer installer file in your downloads folder.
Click the Protocase Designer icon that was placed on your desktop.
Register to be able to receive estimates or place an order, and for access to the online cutout library.
Version Information
The requirements for running Protocase Designer v4.3 are:
RAM - Minimum: 512MB RAM - Recommended: 1GB or more.
Video - Opengl 1.2+ compatible video card.
Hard Disk Space - 100mb
CPU - Intel® and AMD® processors. (P4-class cpu recommended, P3 minimum)
Operating System - Windows XP or Windows Vista, Linux
Java - runtime environment version 1.6 (also known as JRE 6)
Running Protocase Designer without Administrator Privileges Try our forums!